Swager Junior Backboard and Hoop
Fully Weatherproof For Outdoor Use
38cm Hoop Size
Swager Ball Included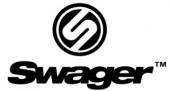 The Junior Backboard & Hoop is fantastic value. Included in the box is a Swager basketball meaning you have everything in the box ready to play.
The Backboard and Hoop is ideal for outdoor use and for those people intent on mounting it on a wall or garage. The high-quality polyethylene backboard and steel hoop offer great protection from the elements ensuring play for a long time.

The Swager basketball is made from hard wearing rubber. This ensures a longer life and means you can enjoy playing with the ball on any playing surface.

The surface of the basketball is dimpled so the ball has great grip and is easy to control. This also means its great for outdoor use. The dimpled surface also make it easy to control in damp conditions unlike leather balls which become slippy.
More Information
Construction:
Weatherproof polyethylene backboard with steel hoop and nylon net
Backboard Size:
75 x 52 x 2.5cm
Hoop Size:
38cm
Boxed Size:
76 x 53 x 7cm
Weight Gross / Net:
3.5 / 2.8Kg
Free

Delivery
COVID - 19 NOTICE - Please be prepared that you will experience a delay with the delivery your goods due to the unprecedented demand across the country at this present time. We are working hard with our couriers to get all items dispatched and delivered as quickly as possible. We are kindly are asking all customers to wait a minimum 10 working days prior to contacting us to chase a delivery as it is likely your goods will arrive or be booked in within this time frame.
Delivery is free throughout the whole of Ireland and we endeavour to have your item with you within 7 working days from date of purchase. Some heavy items can take up to 10 working days for delivery in which case the courier will contact you directly to update you on the delivery date.
Throughout the Delivery process we do endeavour to keep you informed of the delivery progress either by text or email. Delivery is a one man kerbside delivery and you should ensure to have somebody available to help the driver with the item if its over 30kg. Please see the table and explination below for a guide to our delivery service.
Example Delivery Schedule for an item ordered at 5pm on a Tuesday
Tuesday 5pm: Order placed on website
Wednesday 11am: Item collected from our warehouse by our courier
Monday or Tuesday: Item is delivered to your door
| If your item is despatched on.. | It will be delivered on.. |
| --- | --- |
| Monday | Thursday or Friday |
| Tuesday | Friday or Monday |
| Wednesday | Monday or Tuesday |
| Thursday | Tuesday or Wednesday |
| Friday | Wednesday or Thursday |
When will my item be delivered?
Delivery for Items under 50kg's including Trampolines, Home Gyms and Games Tables –
1. Your order is received into our warehouse and is picked and packed ready for collection and delivery to you.
2. Tracking details will be sent direct to the email address provided on the order.
3. Within 3-5 working days the tracking will become live on our courier's website.
4. Once the tracking has become live you will receive a text message from the courier to confirm a delivery date and time. The delivery is normally completed 24-48 hours after the live tracking becoming available.
5. If for any reason, you cannot accept delivery at this time, it is easy to rearrange for a more convenient time.
Delivery for items over 50kgs –
1. Your order is received into our warehouse and is picked and packed ready for collection and delivery to you.
2. Within 3-5 working days the item will arrive at your local depot.
3. Once the item is at your local depot the courier will contact you direct within 48 hours to arrange/book in a suitable time for delivery.
Delivery timescales can sometimes be delayed by different factors such as weather, transport system congestion & busy periods so from time to time delivery may take a little longer than the stated time. We will endeavour to let you know of any delays before they happen but sometimes this is outside of our control.
Standard 12 Month Warranty
This product comes with a 12 month warranty supplied directly from Irish Sports Warehouse
In the unlikely event of a problem arising, please contact us immediately and we will be happy to help.
Please be aware that unless stated otherwise free gifts and batteries are exempt from our Standard 12 month warranty.
Please see Terms and Conditions for more information.